STUDIO OKULAR was founded in 2014. In collaboration with architects, light companies and artists STUDIO OKULAR develops and realizes holistic light concepts. Previous clients and cooperation partners include: Museum für angewandte Kunst (MAK), Robert La Roche, Büro Bauer, Trendzeit, Kiteo, Lumitech, Friedrich Biedermann, Studio GA, Wolf Reicht Architects, PASCH, Universität für Angewandte Kunst, Angewandte Innovation Lab (AIL). 
ANDREA GRASER is CEO and Design Principal of STUDIO OKULAR. She was born 1976 in Tyrol, Austria and studied architecture at the Bartlett School of Architecture in London and in the studios of Hans Hollein and Wolf D.Prix at the University of applied Arts in Vienna. After her graduation in 2002 Andrea joined Coop Himmelb(l)au, and worked there as Design and Project Architect.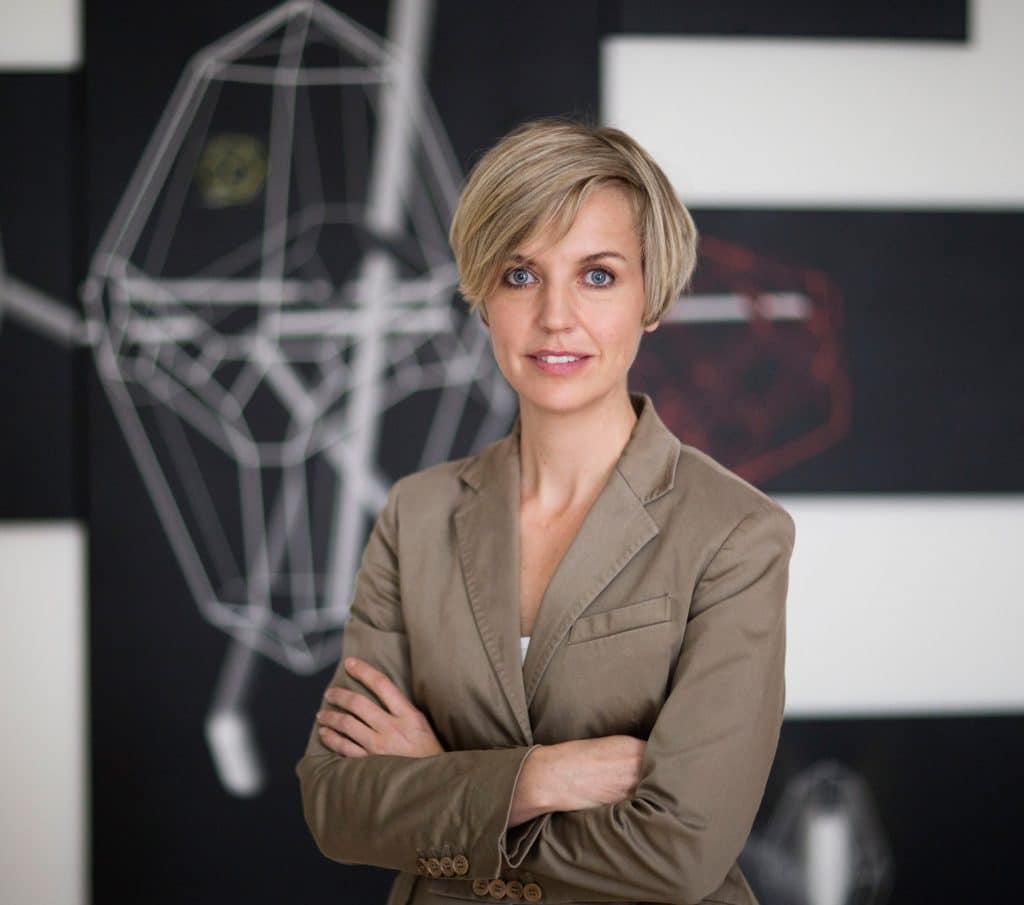 In 2007 she took over a leading position as Project Partner in several international projects. It was also the beginning of the long term collaboration with the artist Friedrich Biedermann, whom she has supported in several art projects during the planning and construction phases. In 2014 Andrea Graser founded STUDIO OKULAR. Since 2016 -as part of her PhD program at the University of Applied Arts, Vienna at the Institute of Architecture- she has been in charge of the research project "Interdisziplinäre Lichtvermessung – Raumlabor S3T14".
Curriculum Vitae  Mag. arch. Andrea Graser
Aug 2014                            Foundation of STUDIO OKULAR
Aug 2011 – July 2013    Head of Research and Development Department at Coop Himmelb(l)au,Vienna
Dec 2007 – July 2011    Project Partner at Coop Himmelb(l)au, Vienna
Feb 2009 – July 2013    Project Architect at Atelier Friedrich Biedermann, Vienna
Feb 2002 – Nov 2007    Design Architect at Coop Himmelb(l)au, Vienna
since Sept 2016       PhD Program, University of Applied Arts, Vienna, IoA Univ. Prof. Dr. Klaus Bollinger
since July 2015        Member of Austrian Association of Consulting Engineers Fachverband Ingenieurbüros
since July 2013        Member of the Austrian Chamber of Architects and Chartered Engineering Consultants
Jan 2002                   Master Degree in Architecture (Diplom) University of Applied Arts Vienna, Studio Wolf D. Prix
Lecture/ Presentations
Mai 2018
Light as Matter; lecture for Institute Industrial Design 1 @ AIL Angewandten Innovation Lab, Vienna
Activity: speaker
April 2018
five artists five museum – an exhibition as part of research project @ AIL Angewandten Innovation Lab, Vienna
Activity: presentations/ curator
Dez 2017
one artist two white cubes five museum – an exhibition as part of research project @ IoA, University of applied Arts, Vienna
Activity: presentations/ curator
Sept 2016
Light Path (art event)mobile art installation 2nd Tour 2: Zurich, Budapest, Munich
Activity: presentations
April 2016
Light Path (art event)
mobile art installation; 1st Tour Start Light festival  "Luminale", Frankfurt
Graser A., Biedermann F.  (Lecturer)
Activity: talks and presentations
April 2016
Paradigma (presentation)Light Wall Product design for Lumitech Light and Building, Frankfurt
Activity: presentations
January 2015
Coding Light Density (lecture)conference "computational design culture", MECS Institute for Advanced Study on Media Cultures of Computer Simulation, Leuphana University Lüneburg
Graser A. (Lecturer)
Activity: conference and speaker
Publication/Press
2017
Graphical Light Analysis
Graser A.,2017 Friedrich Biedermann 03 (Publisher) Vienna: Atelier Biedermann Associate Editor: Axel Stockburger, Barbara Pflanzer, Christa Benzer, Fridrich Biedermann
2016
Andrea Graser: Architektur aus Licht
Graser A., Hötzl M., Ausgabe Architektur und Bauforum 04April16 (Publisher) p.4-5 Vienna, Österreichischer Wirtschaftsverlag
Vernetztes Licht ist mehr als eine kurze Euphorie
Graser A., 2016 Magazin Luxlumia Nr 15 (Publisher) Lachen Swiss, luxlumina Verlag p. 79
Von der Sonne inspiriert Licht neu zu denken 2016, 100 österreichische Häuser, Manuel Hötzl (Publisher) Ammerndorf Germany 100 Medien GmbH p.196
Unter und über dem Horizont – "Vibe" holt die Sonne ins Haus
Graser A., (2016) Magazin Licht Ausgabe 6/2016 (Publisher) Richard Pflaum Verlag, ,Germany p.60-61
Graser A., (2016) Cityshape, Studio Prix: University of Applied Arts Vienna 1990-2011 Edition Angewandte, Birkhäuser Basel (Publisher) Vienna, Institut für Architektur, Klaus Bollinger, Roswitha Janowski-Fritsch, Anja Jonkhans, Baerbel Mueller
2014
Licht-Kunst mit therapeutischen Effekten
Biedermann F., Graser A., (2014), Springer Medizin Ausgabe 01/2014 (Publisher) Springer Verlag, Vienna